'My aim is to be an ally to those who wish to bring about sustainable change in their lives'.
'I don't promise that this process will always be an easy or fast one but I do believe that real change is possible. It is one of my greatest joys to walk with a person as they embrace their demons and move towards happiness, stability and fulfilment.'
I am an associate (in ongoing training) of The Reach Approach and I often use the incredible  tools and materials that this organisation has  developed over 30 years of practice. See http://www.thereachapproach.co.uk.
The REACH model is a holistic approach to human health so we do look at all aspects of well-being, We look at emotional, physical and spiritual health and also consider the kind of environment that best supports a person as they change and grow.
The idea is to establish a really solid and powerful base from which to create the life WE truly want to live, not one assigned to us by the pressures of our culture or those around us.
Lucinda has an Advanced Diploma in Integrative Counselling from The Iron Mill Exeter. She is also a member of the BACP (British Association of Counselling and Phychotherapy and has recently applied for accreditation. Lucinda has been in private practice since 2012, working with clients from all walks of life, couple or relationship issues.
If you are interested in contacting Lucinda re one to one sessions please write to her through this website leaving your contact details including a phone number and she will get in touch with you by phone for an initial conversation.
Lucinda also runs small groups to give people a taster so check out the diary dates on this site.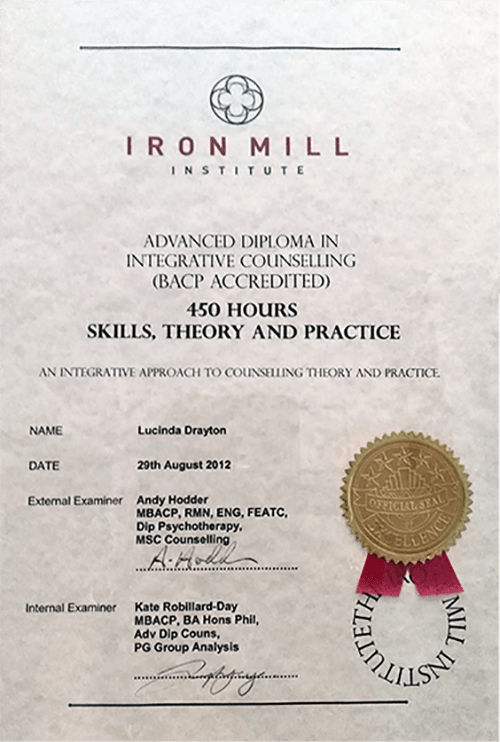 *
Newsletter sign up
Enjoy music news, up and coming gigs, discount offers and loads more
Client experiences
[ in their own words ]
'It's hard to articulate the difference that Lucinda has made to my life without sounding cheesy. But I can say with absolute confidence that Lucinda has equipped me to live a life happier, more confident and more fulfilled than I ever thought possible. Over the time I've been seeing Lucinda, I've come to her with
2nd March 2016 The journey    Letting go….. Today I formally ended my therapy with Lucinda. In 2013 I was a mess. I knew I was unhappy because I cried sometimes and didn't know why. I signed up for a retreat with Lucinda in July and within a couple of hours of being there, my tears
View More Posts
*
Newsletter sign up
Enjoy music news, up and coming gigs, discount offers and loads more
As human beings our greatness lies not so much in being able to remake the world as in being able to remake ourselves.Mahatma Ghandi.
@Lucindasing